One of the Most Renewable Materials on Earth
Bamboo is one of the most renewable and sustainable building materials on Earth. The advantages of building with bamboo are numerous.  It is a wonderful, natural and renewable resource. It is capable of rapid growth and if used in place of wood it can help to avoid deforestation of precious wood forests.
Cost Effective
The main material costs are relatively inexpensive and sometimes even free when found on site. This combined with doing it yourself makes it very affordable.
Easy To Build
The techniques can be taught fairly easily to helpers. The structure goes up quickly with everyone pitching in.
Do It Yourself
You can do the work yourself with guidance from an experienced craftsman. Friends and family can pitch in to get it done quickly.
When the useful life of the structure has ended, the materials are recycled back into the Earth with no ill effects to the environment.
Bamboo's Amazing Growth Rate
Bamboos are some of the fastest-growing plants in the world, due to a unique rhizome-dependent system. Certain species of bamboo can grow 35 inches within a 24-hour period, at a rate of 0.00003 km/h (a growth of approximately 1 millimeter (or 0.02 inches) every 2 minutes). Bamboos are of notable economic and cultural significance in South Asia, Southeast Asia and East Asia, being used for building materials, as a food source, and as a versatile raw product. Bamboo has a higher compressive strength than wood, brick or concrete and a tensile strength that rivals steel.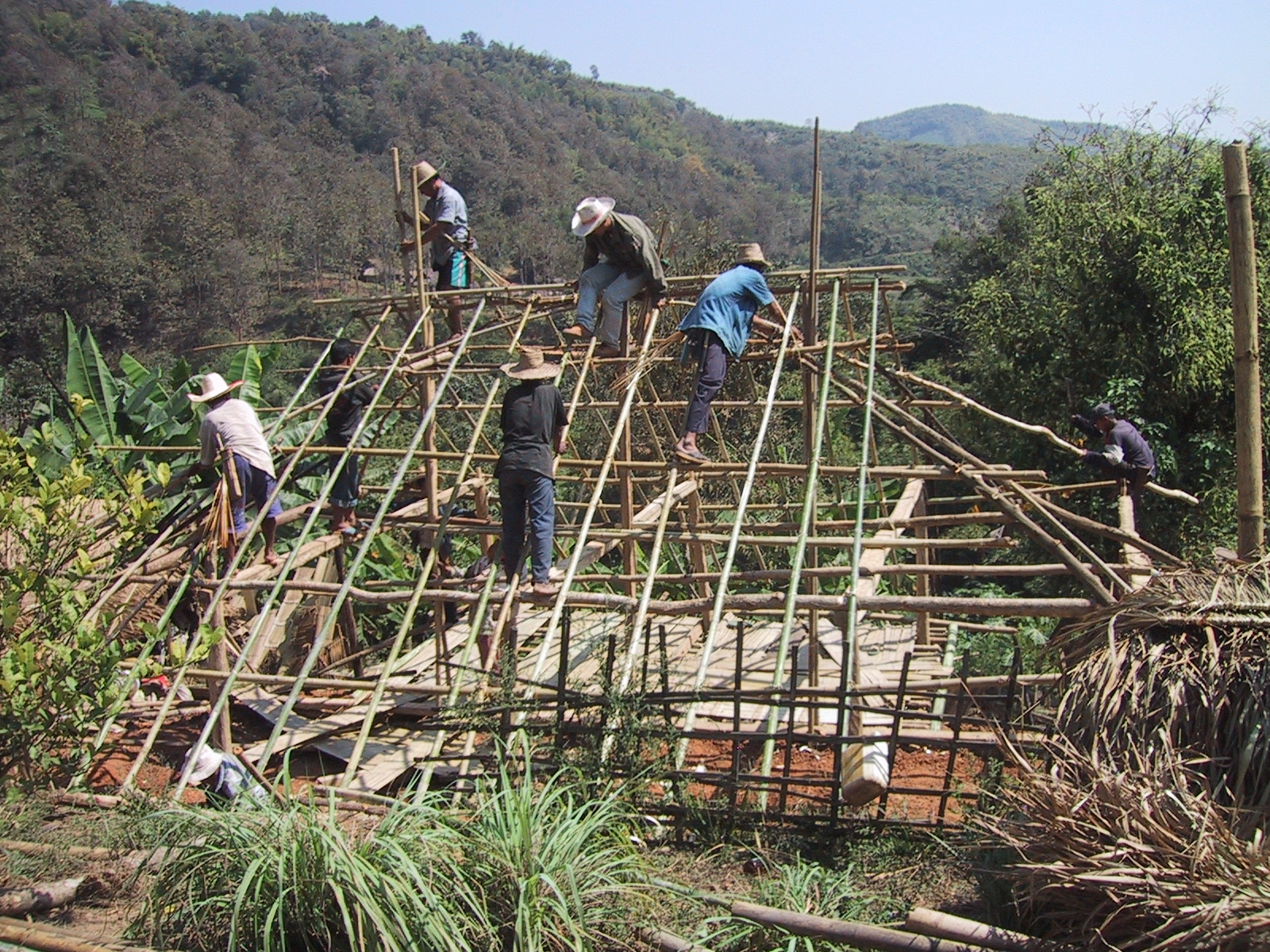 Benefits, Costs, and Environmental Impact
Bamboo, like true wood, is a natural composite material with a high strength-to-weight ratio useful for structures. In its natural form, bamboo as a construction material is traditionally associated with the cultures of South Asia, East Asia and the South Pacific, to some extent in Central and South America, and by extension in the aesthetic of Tiki culture. In China and India, bamboo was used to hold up simple suspension bridges, either by making cables of split bamboo or twisting whole culms of sufficiently pliable bamboo together. One such bridge in the area of Qian-Xian is referenced in writings dating back to 960 AD and may have stood since as far back as the third century BC, due largely to continuous maintenance.
Construction Technique
Various structural shapes may be made by training the bamboo to assume them as it grows. Squared sections of bamboo are created by compressing the growing stalk within a square form. Arches may similarly be created by forcing the bamboo's growth into the desired form, costing much less than it would to obtain the same shape with regular wood timber. More traditional forming methods, such as the application of heat and pressure, may also be used to curve or flatten the cut stalks.
Bamboo Houses in Columbia Video by DW-TV
Click Image Below See More Sustainable Building Types